"We recommend increasing investment in small-scale and mid-scale projects and initiatives that enable forefront research at universities and laboratories. […]" (Nuclear Science Advisory Committee (NSAC) Long Range Plan 2015)
The Association for Research at University Nuclear Accelerators (ARUNA) is an association of 13 university-based accelerator laboratories in the United States and the scientists performing nuclear research at them. ARUNA was founded in 2010, with the goals to optimize the use of university-based accelerator facilities, increase the opportunities for education around them, and document their scientific impact as part of the U.S. nuclear science enterprise. ARUNA members believe that the diversity of approaches represented by their laboratories is a critical asset for a field that is presently growing fast around the science opportunities offered by the Facility for Rare Isotope Beams (FRIB).
News and Announcements
---
FRIB Visiting Scholar 2022
The Facility for Rare Isotope Beams (FRIB) at Michigan State University has opened its doors holding the promise to reach the new frontiers of the nuclear chart. To perform the first user experiment with the FRIB Decay Station initiator (FDSi), Vandana Tripathi was selected as the award recipient for the 2022 FRIB Visiting Scholar Program for Experimental Science. Read more about the excitement around the first FRIB experiment and Vandana's award.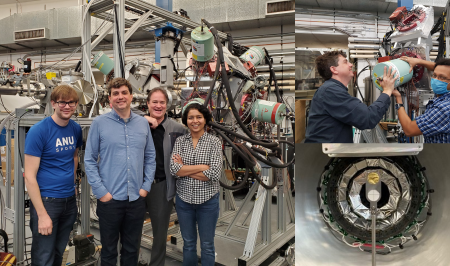 CLARION2 installed at FSU
The new CLARION2-TRINITY array was commissioned in December 2021 with a Coulomb-excitation and fusion-evaporation experiment at the John D. Fox Laboratory at Florida State University (FSU). The detector array consists of Compton-suppressed clovers, LaBr/CeBr, a new hybrid charged-particle detector consisting of annular Si and GAGG-SiPM detectors, and a zero-degree detector, which were all installed throughout 2021. Based on community talks and participation in a LECM workshop, the array is anticipated to focus on single- and multi-step Coulomb excitation, stopping powers, Recoil-in-Vacuum calibrations for g factors at FRIB, nucleon transfer reactions, fusion evaporation, and fast-timing measurements.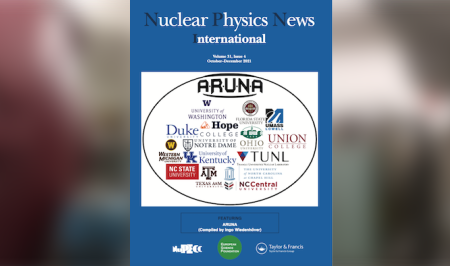 ARUNA Feature
NuPECC chose the ARUNA laboratories for a featured article in its Nuclear Physics News. The 10-pages article was published in the October-December 2021 issue as part of the format's laboratory portrait.